Outsourcing graphic design: All you need to know
The art scene in the Philippines is filled with several incredible Filipino artists and graphic designers that scattered their works and earned praise all over the digital world. For many years, more and more artists have joined the outsourcing industry to nurture and capitalize on their unique skills.
Read on to discover how outsourced graphic design services can give your business a great edge.
GET FREE QUOTE
Send us your requirements and we will get back shortly.
GET STARTED
What is graphic design outsourcing?
Graphic design outsourcing is the business practice of hiring a third-party provider to create various graphic design projects for their business. This includes business cards, website official header, profile photo, blog theme, infographics, logo, and many more.
By outsourcing these design projects to a more efficient, affordable, and reliable external provider, you wouldn't have to worry about branding the design of your business.
A good graphic designer knows how to come up with designs that visually communicate the essence of your brand across all media. Outsourcing graphic design to the Philippines, or other offshore destinations, can also save companies money.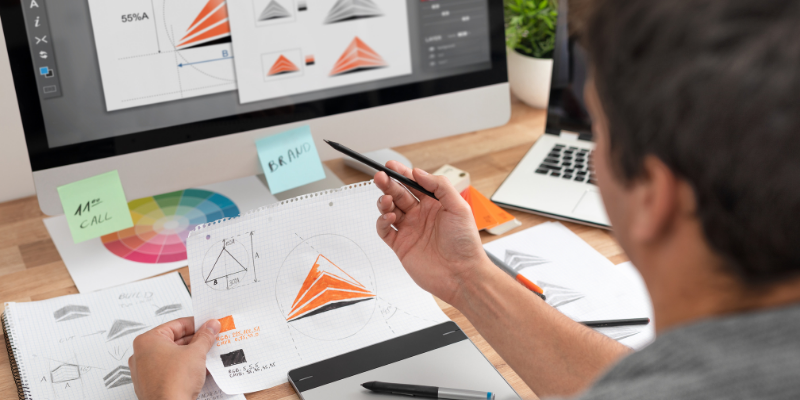 Why do you need to outsource graphic design?
Almost all businesses are now transitioning to digital, and the digital sphere uses very great visual designs. With the booming industry of online shopping and marketing, consumers trust what they can see on-screen to determine which product they'll buy and support.
That said, what they can initially see on your website or the business page will leave a long-lasting impression about what you can offer.
One effective way to separate your look from the rest is by creating a one-of-a-kind visual identity that reflects your brand and speaks to your customers. As part of your branding strategy, your identity reflects your company's all-about – consider its history, values, and services.
With outsourcing, your designer can give your audiences a bigger picture of what you are and what you do.
Advantages of having outsourced graphic design
Now that you have an idea of what graphic design outsourcing is, and why do you need it to keep up with the market online trends, here are some of the major advantages you will have access to:
Design that reflects your brand identity and speaks to your audience
If you want to publish one-of-a-kind content that hosts your uniqueness as a brand, it's very important to incorporate various design elements that tell about your brand and at the same time, communicate to your audience's mind.
A good graphic designer can achieve the right balance of these artistic elements without compromising your company's objective to send a message and improve your quality of branding.
Access to graphic design software
Graphic applications such as Adobe, InDesign, are not easy to use especially if you have no experience in designing at all. These products can also be quite expensive to purchase and maintain.
Professional graphic artists have mastered and utilized all this technology to an extent already, so you don't have to worry about researching or downloading it.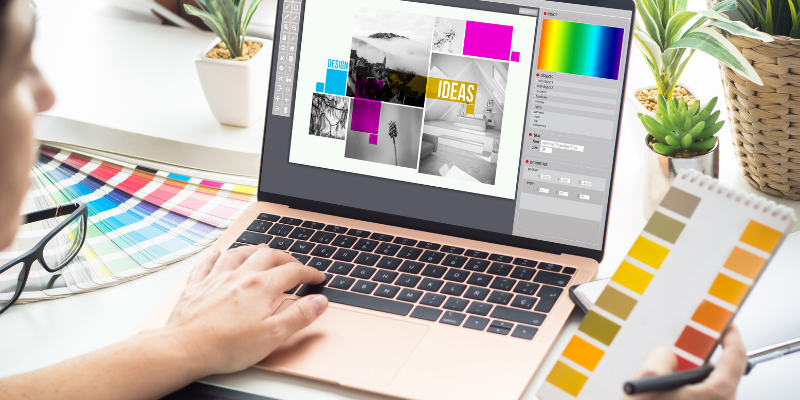 Fresh ideas
Graphic artists not only offer their ability to draw, color, or make video effects, but you can also work hand-in-hand with them by letting them know of every single thing you want to see on your end product.
Artists will be able to tell you their fresh ideas that would distinguish you from the rest of your competitors. You'll get access to creative staff, fresh ideas, and all for cheaper costs.
Gain more creative talent
Most graphic design firms assign multiple people with the skill sets to work on outsourced projects. This is amazing because the combination of hardwork and talents of many, could never be achieved using one's point of view alone.
So, instead of hiring one full-time in-house graphic artist, you will gain more creative talent when you outsource graphic design work to a reliable external provider. Working with a third party allows you to explore more of your identity as a brand.
Cater to your standards
These graphic artists and designers will give you the best end product by collaborating with them about your needs and dislikes. It's important that you are both on the same page from the littlest details up to the biggest ones.
In this scenario, mistakes are avoidable and ideas are greatly welcomed.
How to outsource graphic design?
The flexibility and savings that outsourcing offers can be a good luring point, but the major factor that you need to consider is the results. The quality of work that you're looking for is what will matter now and in the long run.
That said, your outsourced graphic designer must be flexible and open-minded to meet your client's specific needs. This should definitely be your number one priority when it comes to projects: your client's wants and needs.
Outsource freelance artists
You can hire an in-house designer who has contacts with freelancers to complete your projects. The individual in this role should do a background check about your company's design history. This can mean creating high-level design concepts, putting new changes or updates, and/or maintaining your company's style standards to ensure that all graphic work conforms to your level of standard.
With so many freelancing agencies, you can definitely find quality work and talented designers and online freelancers. However, freelancers have multiple clients to handle as well. So, when it comes to flexibility, you will need to adjust your calendar as they prefer a scheduled time to finish the other projects and yours.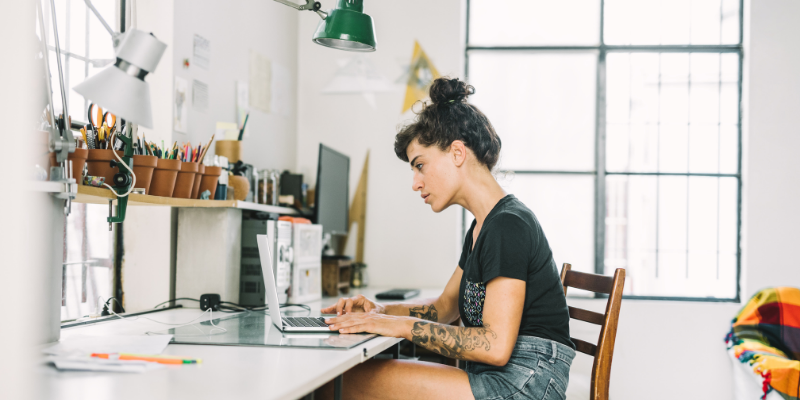 Outsource a creative director
If you aren't confident in your ability to hire freelancers, you might want to try looking for a creative director to do the search. There are a handful of agencies that can also make this easier.
When you outsource, BPOs professionally hand-pick the best creative talent and help you learn to source the best designers for your needs.
In a matter of years, your company's graphic design needs could be a lot different from what it needs today. And that's normal because you will need to keep up with the changing demands of the market.
Hire an external provider
You might find that you were able to do the outsourcing yourself, but sooner or later, you will be too busy and your plate will be filled by the need to focus on your business's core competencies.
It will be challenging to continue giving this aspect of your business the attention it needs and when it comes to that point, you'll realize how important it is to hire a third party. It's easier, cheaper, and definitely more efficient.