21 online transcription services to consider
If you're a journalist, writer, editor, student, or anyone who does writing, your life would be much easier with the help of online transcription services.
What are online transcription services?
Online transcription is the conversion of any type of audio or video file to written documents. It's a time-consuming process when done manually, so online transcription services are now available online to help you with this task. Online transcription services are companies you can hire or artificial intelligence (AI) software you can use to transcribe your audio and video files for as fast as five minutes.
GET FREE QUOTE
Send us your requirements and we will get back shortly.
GET STARTED
The top 21 online transcription services for 2021
Faced with a huge number of audios, videos, interviews, and podcasts that need to be transcribed? Don't worry, here are 21 online transcription services you can count on.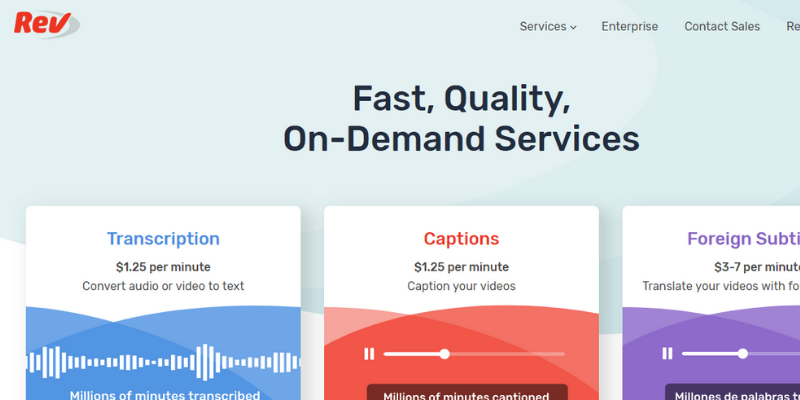 Rev uses the power of both the technology and human skills in transcribing documents. It takes pride in both its powerful software platform and professional freelance transcriptionists, captioners, and translators to deliver high-quality results quickly.
TranscribeMe is a trusted partner to hundreds of brands online. It uses an intuitive platform with the best security encryption and promises the highest accuracy and quality.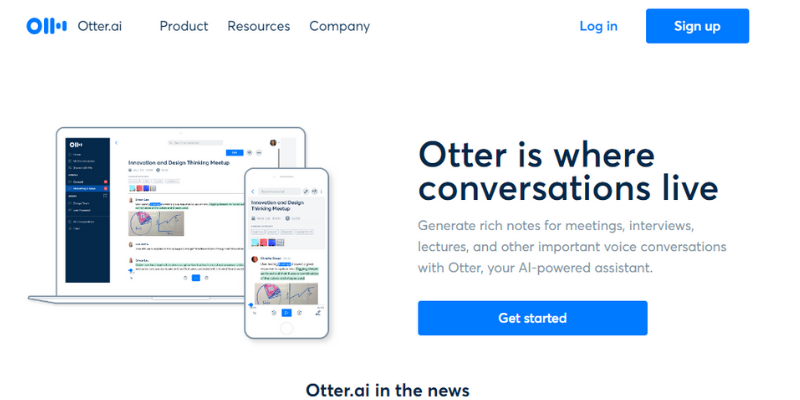 Otter.ai, meanwhile, provides speech-to-text translation through AI and machine learning. The service can be used for all purposes, especially meetings, interviews, lectures, and everyday voice recordings.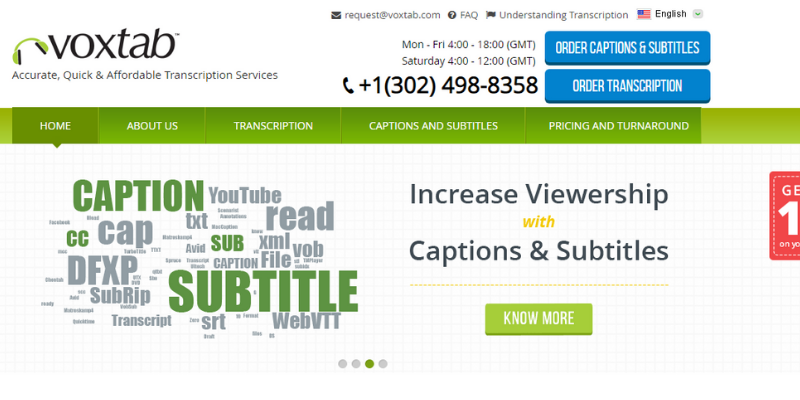 Voxtab offers complete flexibility, accurate results, and up-front pricing with no hidden fees. The firm boasts its rigorous three-tier quality check on each and every transcript, and assures 99% accuracy regardless of the subject matter, audio quality, or speaker accents.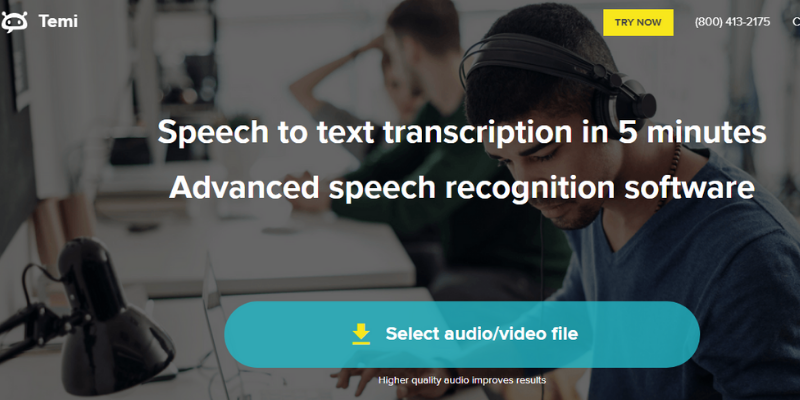 Temi is perfect for those who need the transcription right away, since it can generate speech to text transcription in five minutes.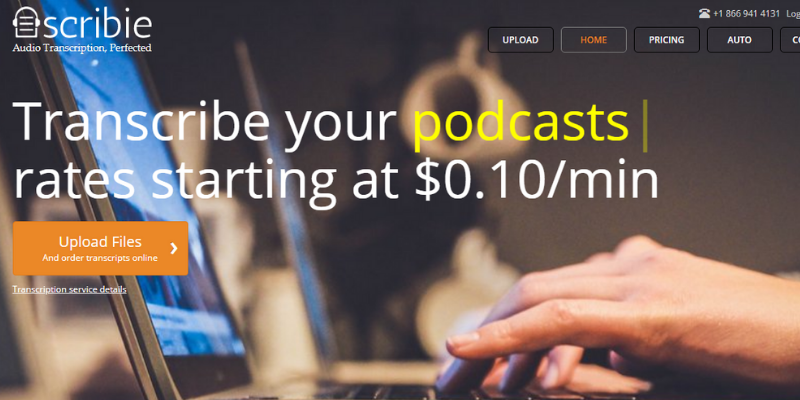 Scribie claims to offer the lowest transcription rates compared to other services, charging $0.80 per audio minute. It also ensures confidentiality, 99% accuracy, and free rework if you're not satisfied with the accuracy.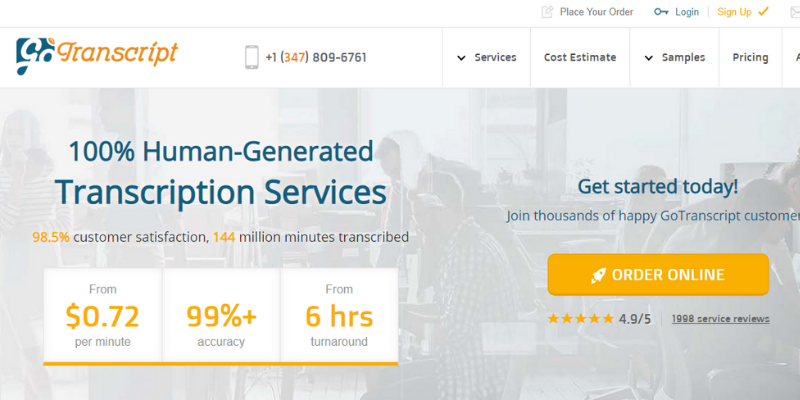 GoTranscript promises "legal-level accuracy" regardless of your industry. They also promise 100% happy guarantee, rush order options, and instant ordering.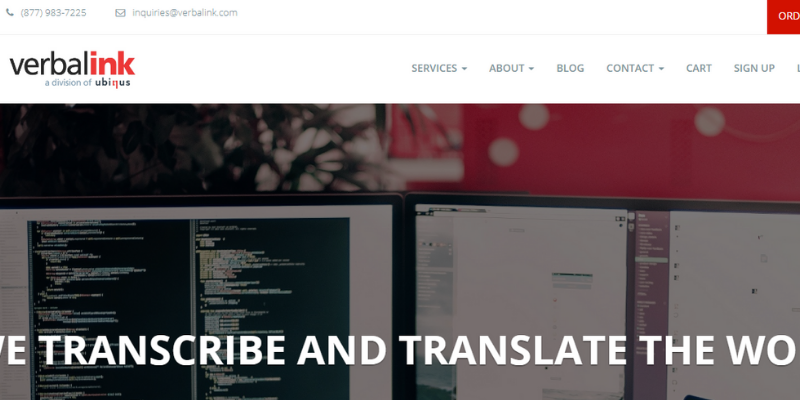 Verbalink, meanwhile, "can translate any project imaginable," as the firm can provide translation with over 200 languages. Its transcription services also guarantee confidentiality and customization with no hidden costs.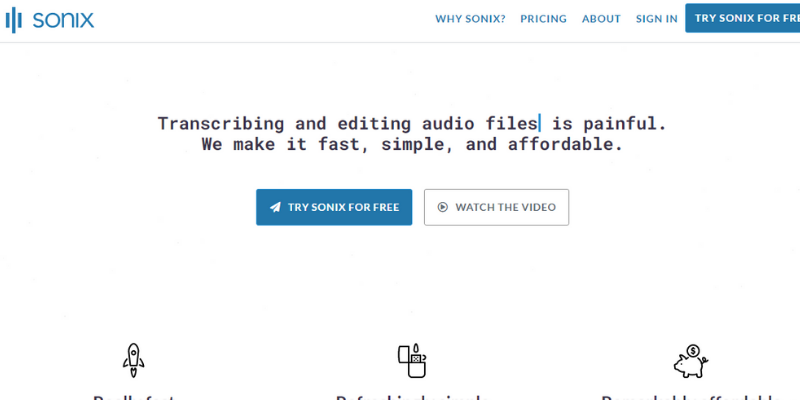 Sonix's automated transcription software will quickly convert audio and video to text in minutes. It has a "refreshingly simple" upload process that also lets you edit, polish, and share your transcripts with ease.
Transcription Panda offers a 100% human-based transcription process which involves multiple levels of quality checks to ensure best-in-class accuracy. It offers transcription to both audio and video files.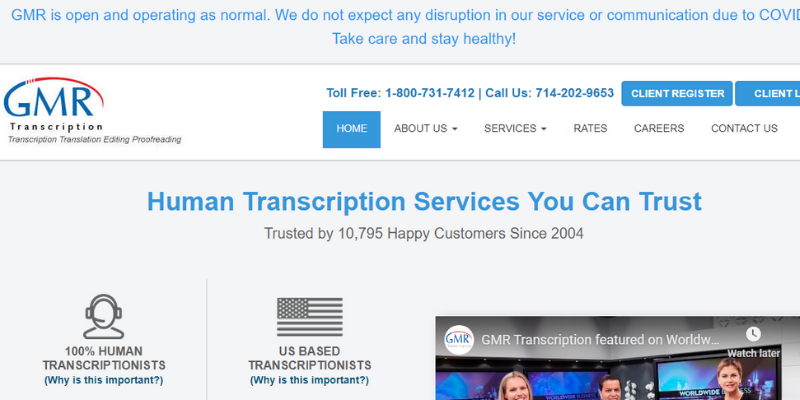 GMR Transcription is staffed by 100% human transcriptionists, and has been satisfying customers since 2004. They provide various types of transcription services including legal, academic, business, and podcast transcriptions.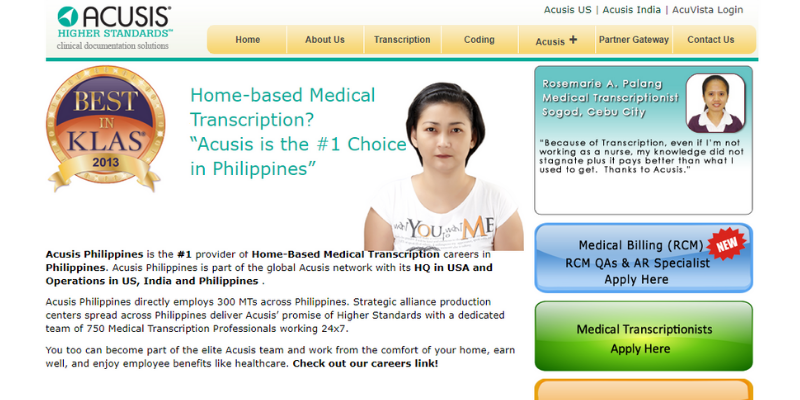 Acusis focuses on Medical Transcription, Medical Coding & Billing and Cloud-based Technology Platform for managing clinical documentation workflow to facilities and MTSOs. Since its inception in 2001, the company has built a well-recognized reputation for ethical and transparent business practices.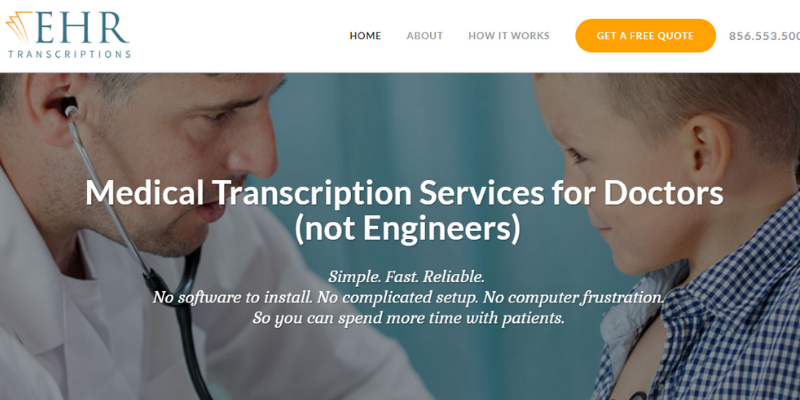 EHR has been providing high-quality medical transcriptions for doctors for 12 years. It also guarantees 24/7 availability, 24-hour turnaround time, no sloppy transcriptions, and no lame excuses.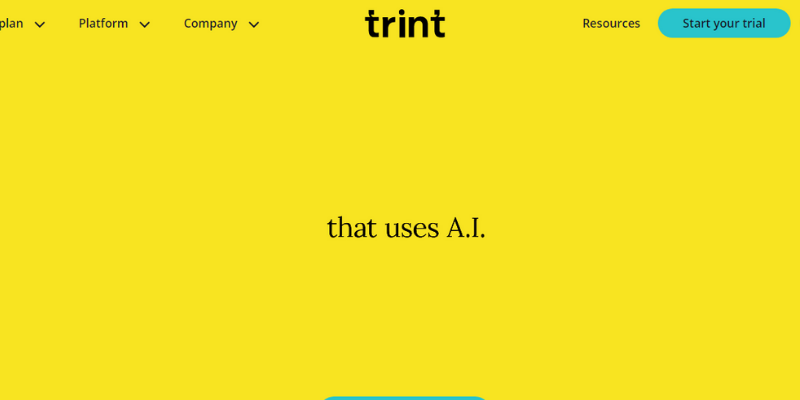 Compared to other transcription services, Trint uses AI to automatically transcribe the spoken word in 31 languages. Its speech-to-text platform makes any audio and video searchable, editable, and shareable.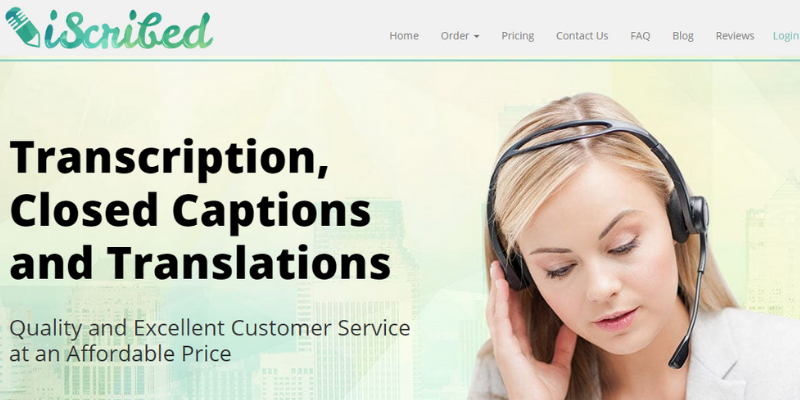 iScribed offers transcription services for as low as $0.89 per audio minute. All transcriptions are done manually, have a 99% accuracy rate, and have a quick turnaround averaging 48 hours for files 60 minutes or less.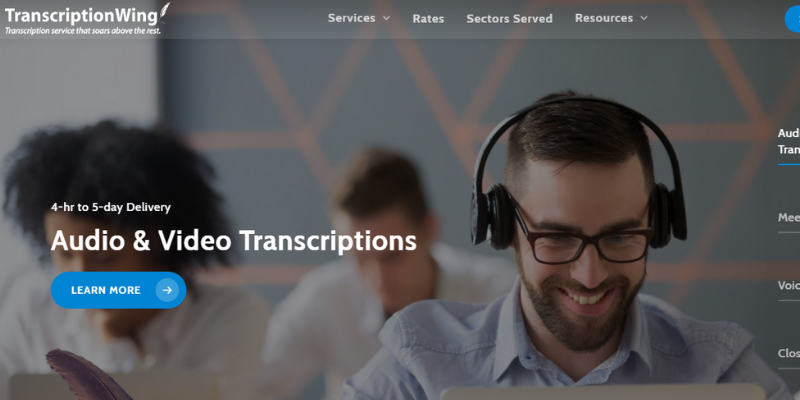 The firm's accurate transcription services come from their team of experienced transcriptionists and editors. Unlike other services, they accept unique transcription formats and templates and can provide flexible turnaround time frames to meet every deadline and budget.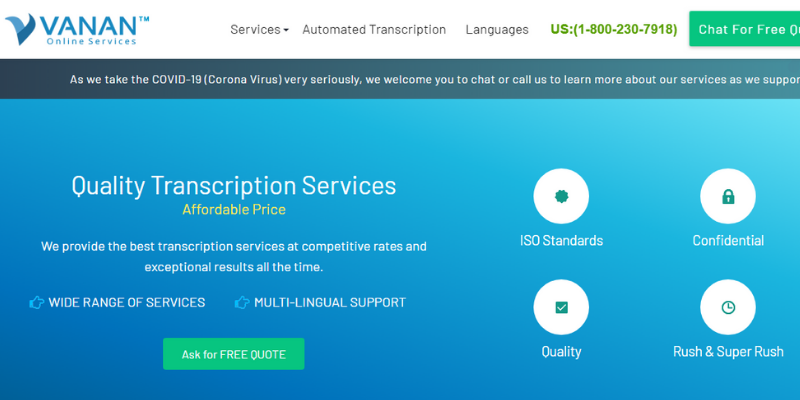 Vanan, meanwhile, claims to provide "the best transcription services in the United States". Its transcription services support various input formats, and also allows "rush" and "super rush" transcription services.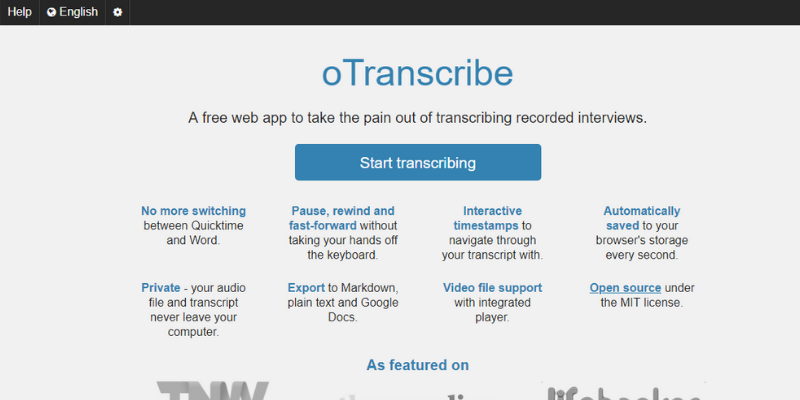 oTranscribe is a free web app that is specifically created to help journalists, researchers, and citizens.
19. Youtube
Did you know that you can also use Youtube to transcribe audio and video? You can upload the video on the site, turn on the closed captioning, and voila! Free transcription! It's not 100% accurate though, but if you're on a tight budget and in a hurry, it'll do.
GET FREE QUOTE
Send us your requirements and we will get back shortly.
GET STARTED
20. Fiverr/Upwork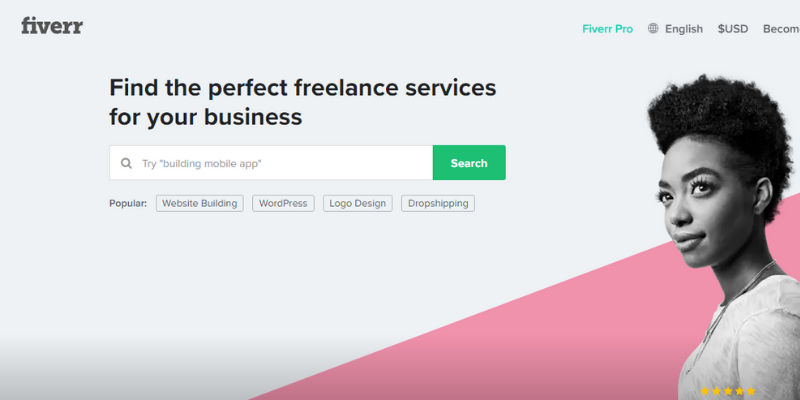 If you're transcribing for a month-long project, then you should better hire a transcriptionist from Fiverr or Upwork. These online job platforms give you access to experienced transcriptionists and avail their services for a relatively cheaper price.
Most important, If you need transcription full-time services due to the volume of work that needs to be done, the best move is to hire outsourced virtual assistants (VA) as transcriptionists. With VAs, you'll be ensured of the quality of job, plus you can add some additional tasks during not-so-hectic days.